| | |
| --- | --- |
| | Class Engagement Report |
The Class Engagement Report produces a class roster report listing total teacher engagements with their students as entered through the Class Engagement application. Totals are provided for class days, days enrolled, days present, engagement days, total engagements, total minutes, and average minutes within a specific date range.
Access Class Engagement Report
Hover over Enrollment > single-click Reports > Select Class Engagement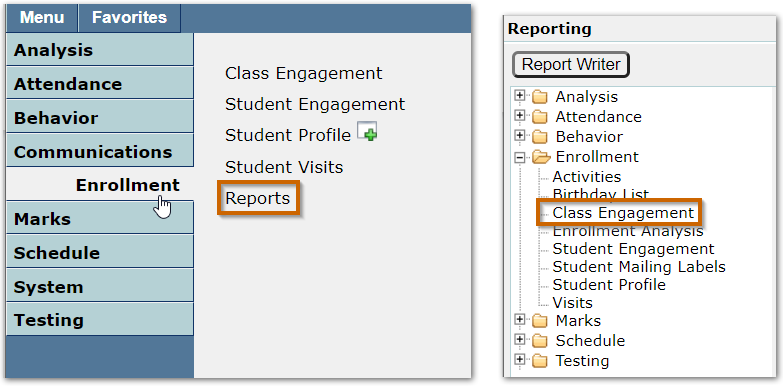 Report Options
The Class Engagement Report offers the following options: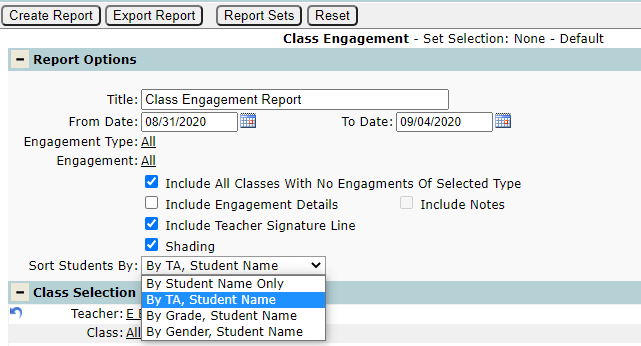 Title: The report name appears as the default title, but this may be changed.
From Date, To Date: The dates default to the current week begin and end dates but may be changed.
Engagement Types: "All" are selected by default, but specific Engagement Types may be selected.
Engagement: "All" are selected by default, but specific Engagements may be selected, keep in mind Engagements are tied to Engagement Types. If specific Engagement Type is selected, only those Engagements associated with the selected type will display in the drop-down list.

Include All Classes With No Engagements of Selected Type: When this box is checked all courses assigned to teachers in the master schedule will print, including those with no engagement records.
Include Engagement Details: Check this option to print Engagement details which include the Engagement Type, staff, method, outcome, and number of minutes for each engagement entered using Class Engagement.
Include Notes: Check this option to print any notes entered for Engagements on the report.
Include Teacher Signature Line: Check to print the Teacher signature line at the bottom of the report.
Alternate Row Shading: Check to add shading on the report
Sort Students By: Select desired sort order for students listed on report
Run the Report
Use Create Report or Export Report to produce the report itself.
Report Sample with Engagement totals and teacher signature line: