Parents/guardians will need a valid email address to begin filling out the New Student Enrollment application online.
In the address bar of your internet browser type https://enroll.omsd.net
Select a preferred language in the upper-right corner of the screen.
Click Start a New Student Enrollment
Enter a valid email address and create a password
Click Continue

Please review all the areas in steps 1-6 carefully and fill-in all the required fields. Click Submit in each page to advance to the next step. Click Add under each STEP to enter information. Attach required documentation for each student. Confirm the registration is complete and print the form for your records.
STEP 1: Household - Enter household
STEP 2: Student(s) – Click Add to enter new student(s)

who are

not

currently attending OMSD.

STEP 3: Primary/Legal Guardians(s) – Only list Parent/Legal Guardian(s) in this section. Use full legal names.
STEP 4: Emergency Contact(s) – Only list those you give permission to release your child to in case of an emergency.
STEP 5: Documentation – Be sure to attach all the required documents (e.g. utility bill, birth certificate, and immunizations) for each student.
STEP 6: Complete

– Click the

Submit Completed New Student Enrollment

button. Then click

OK

to confirm all data is complete and submit the information to the district.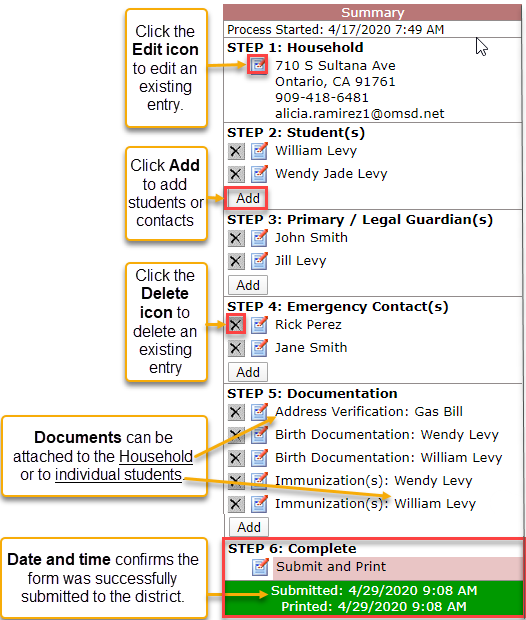 Once the information is submitted to the district, a school office personnel will contact you either by phone or email to review the application for completeness. Please contact the school office if you have any questions or concerns.